Video Editing is just like a tough science subject for many. The reason being the unavailability of reliable and easy to use video editors. I am not saying that there aren't good video editors available. But most of the video editors available today are either very expensive or hard to use. And some of them are built for professionals only. So beginners in the field of video editing always keep a distance from these video editing software.
To overcome these difficulties Movavi developed a video editing software which is easy to use, versatile, and affordable. This software is
Movavi Video Editor 15 Plus
which has just been released as the latest and new version. The Movavi is good for beginners and even professionals. With this software, anyone can edit his/her videos with ease. This is the only nice and easy to use video editor that you will love to use. This software is highly recommended to YouTube video creators, video producers, video editing professionals, and people who want to edit their videos just for any purpose.
Download Movavi Video Editor 15 Plus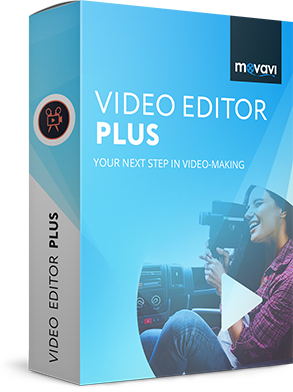 It is a good practice to download and install the software while you read the review. This is because you'll learn software features easily while you read this review.
Movavi Video Editing Software is available to download on Mac and Windows 10 and older Windows operating systems are also supported. This software comes with a 7-day trial period so that you can test it and later decide to buy.
Is Movavi Video Editor 15 Plus Safe?
Yes, Movavi Video Editor 15 Plus is free from any malware, adware, trojans, or spyware. This software product is 100 percent virus free. Movavi is a trusted name for multimedia software since 2004. So you can download and install this software without any worries. But only download from their official website link which is given above.
Movavi Video Editor 15 Plus Review: Essential Features
Easy to use video editing software for Mac and Windows.
Provides all basic video editing options like cutting a video, crop, and rotate it.
Contains a lot of filters and transitions that you can apply to a video. You can also purchase effects from the effects store.
It also has a video creating and editing wizard known as montage mode. It will guide you in creating a video by using multiple video clips and photos.
Essential features like callouts, highlight and conceal are available in this software. With callouts, you can point out anything in a video through animated arrows, shapes, and circles.
With the conceal feature you can blur a specific area of the video to hide any info or faces.
With the 'Titles' you can create the intro for your video and edit text. It has built-in animated templates for titles.
Lets you combine two videos for a side-by-side video playing. It is also known as a picture in picture video.
Supports all popular video formats including 4K formats.
Use object animation to make your own animation.
Use chroma key or green screen removal to change the background of a video.
Add new tracks and change their order in the video timeline.
Unlink overlay tracks and place clips anywhere you want on them
Highly useful for YouTube video creators.
Movavi Video Editor 15 Plus User Interface Explained
Here is a screenshot explaining the UI details of
Movavi Video Editor 15 Plus
.
Main Tools
There are four tools that are fixed and the fifth one is replaceable using the hamburger menu. The first option is for importing the media files like audio, video, and pictures. The second option with a magic wand is for the filters. The third option gives access to the transitions. And the fourth one is customizable you can click the menu icon below the fourth option and select any one option from the list that you want to use the most during video editing. These options include 'callouts', 'pan and zoom', 'stabilization', 'highlight and conceal', and 'chroma key'.
Basic Video Tools
Check out the explanation for basic video tools below.
Movavi Video Editor 15 Plus Review: Edit a Video
Open the video editor and load a video or simply drag and drop the video on to the timeline.
When the video is added it will be visible on the timeline and you can see the video and audio on the timeline.
Below the video, the long bar with waveforms is the audio. You can completely delete this audio if you want to mute the video. You can also add another audio file and drag it over to the video to match its entire length. So, the audio will be played from video's start to the end.
Click the 'Filters' button and select the filter you want to apply. You can apply multiple filters.
Then check out the transitions and see if you want to apply any transition effect anywhere in the video.
Click the 'Titles' button and use the text templates to create the intros or end credits for your videos. Titles can be applied anywhere in the video.
Clicking the hamburger menu you can access functions like 'highlight and conceal', 'chroma key', 'Callouts', 'stabilization', and 'animation'.
Above the video timeline you can access basic tools like cut, crop, rotate, audio properties, and video properties. Check the basic video tools above.
After editing the video you can export to any video format.
Movavi Video Editor 15 Plus Review: Exporting the Edited Video
Once you finish editing the video just click the 'EXPORT' button. A video export dialog will open up. Select any format in which you want to export your video.
Click the 'Advanced' button to change the resolution, codec, frame rate, bit-rate, and audio channels.
After selecting the format and quality click the 'Start' button. The conversion will take time according to your project length and will depend on the processing speed of your CPU.
You can also save your movie project and work on it later. To save a project go to 'File>Save project' or simply press 'Ctrl + S'.
Movavi Video Editor 15 Plus: System Requirements
These are the minimum system requirements for Movavi Video Editor 15 Plus.
Operating system: Microsoft Windows XP/Vista/7/8/10 with up-to-date patches and service packs installed.
Processor: Intel, AMD, or compatible dual-core processor, 1.5 GHz or above.
Graphics card: Intel HD Graphics 2000, NVIDIA GeForce series 8 and 8M, Quadro FX 4800, Quadro FX 5600, AMD Radeon R600, Mobility Radeon HD 4330, Mobility FirePro series, Radeon R5 M230 or higher graphics card with up-to-date drivers.
Display: 1280 × 768 screen resolution, 32-bit color.
RAM: 512 MB RAM for Windows XP and Windows Vista, 2 GB for Windows 7, Windows 8, and Windows 10.
Hard drive space: 800 MB available hard disk space for installation, 500 MB for ongoing operations.
Conclusion
Overall Movavi Video Editor 15 Plus is a nice video editor especially suited for YouTube creators which require a cheap and reliable video editor. There are lots of filters and transition effects. The object animation feature is very good at what it says. You have the option to test it completely for 7 days before purchasing it.
Share This Post.
You May Also Read
Get Blog Updates Via Email Subscribe Now
Please check your email for the verification link. Click on the verification link to start your email newsletter subscription.