A
PDF
is a Portable Document Format that is platform and hardware independent. It is a specially designed file format used for representing fixed-flat layout. It is the most used text file format after the Microsoft Word (.docx). It is best used to share text and image information which is not editable. That means unlike a word file the PDF file cannot be edited without help of a editing software.
When you search the internet then you will find many of them. But here we are recommending you
iSkysoft PDF Editor Pro
for MAC.
iSkysoft
is a professional PDF editing software having all the essential editing tools. It's easy to use and doesn't require much expertise.
From price point of view
iSkySoft PDF Editor Pro
is currently the best PDF editor for MAC OS after adobe acrobat. So, we are going to provide a review for this software which will let you know what makes iSkySoft the best PDF editing software for MAC.
iSkySoft PDF Editor Pro Review: Best PDF Editing Software For MAC OS
➔
Quick Features of iSkySoft PDF Editor Pro For MAC OS
1. Professional Editing Tools
: Easily edit the text in your documents. Add or remove images with options to crop, rotate. or extract images. Easily split up and merge PDF files.
2. Annotation
: Easily annotate your PDF documents. Highlight, underline or strikethrough text. Adding sticky notes adds more information to your files.
3. Create and convert PDF files to other formats
: You can easily create new PDF documents from existing ones. Also you can convert PDF files to other formats like word, PowerPoint, Excel, HTML, EPUB, rich text format, plain text, and images.
4. Support for scanned PDF documents
: With OCR (Optical Character Recognition) it is now possible to convert numbers and symbols to texts. An OCR plugin will better identify the text in a scanned PDF document.
5. Create and fill PDF forms
: iSkysoft provides a built in PDF form creator in this software. These forms can be created to generate bills and invoices for official purposes. The editor is of drag and drop nature and you can put any number of text fields in a form.
6. Secure files with e-Signatures and passwords
: Easily secure your PDF file with a password and also you can place custom stamps to identify and clarify your ownership. Files can be digitally signed with an image signature or personalized handwriting.
➔
Download iSkysoft PDF Editor Pro for MAC from this link.
➔
How to Use iSkysoft PDF Editor Pro For MAC OS
How To Import PDF
Before editing you PDF document you have to import it in the program. Open the program and click "Open File". Locate the file and load it. On the main screen you will see four options which are edit, convert, create, and combine. So, choose the right option whichever you would like to work upon.
How to Create a Blank PDF Document
On the main menu click on File then Create and scroll down to create from Blank Document. The edit the document. You can add text, images and put watermarks.
How To Edit PDF Documents
You can perform following functions in the editor.
Edit text and images.
Edit pages.
Merge and split pages.
Put watermarks.
➔ Edit Text
: After loading the file in the editor click the "
Edit
" on the toolbar. Now double click on any text in file to edit it. You can also delete the existing text.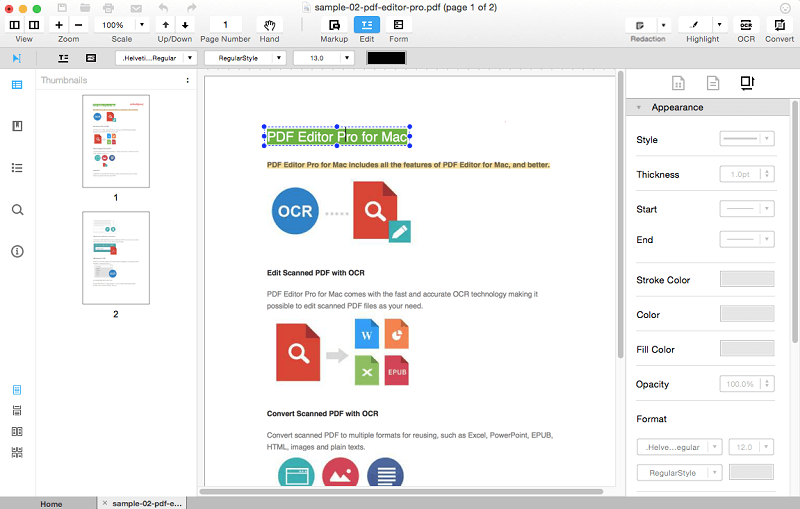 To add text in your PDF file simply click the "
Edit
" on the toolbar then click the "
Add Text
" icon below the "
Zoom
" option. This icon has a letter "
T
" in it. After clicking on this icon click anywhere in your PDF file to add text.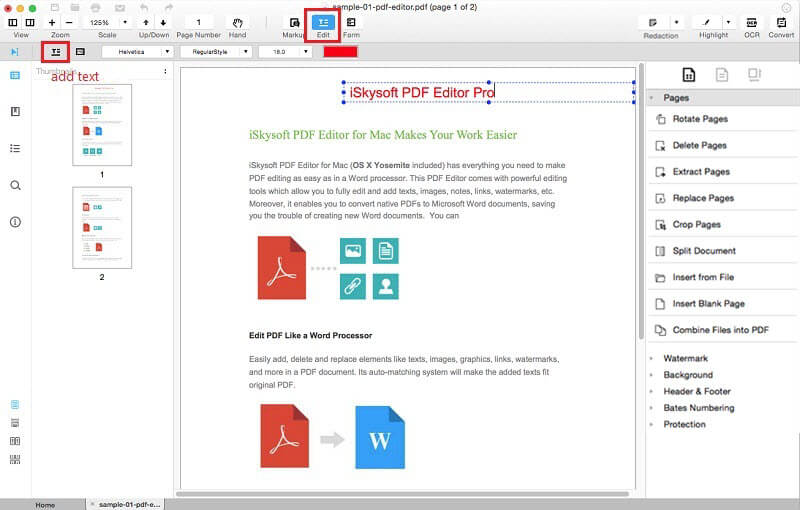 ➔ Image Editing Tools
: To manage an image click the "
Edit
" button then click "
Add Image
" button. Then click anywhere in the PDF file to add where you want the image to be. A file browser will open select the desired image to add. You can adjust the image to fit in the space. Clicking on the "
Edit
" button will also give you three more image editing tools like "
Replace Image
", "
Extract
" and "
Crop
".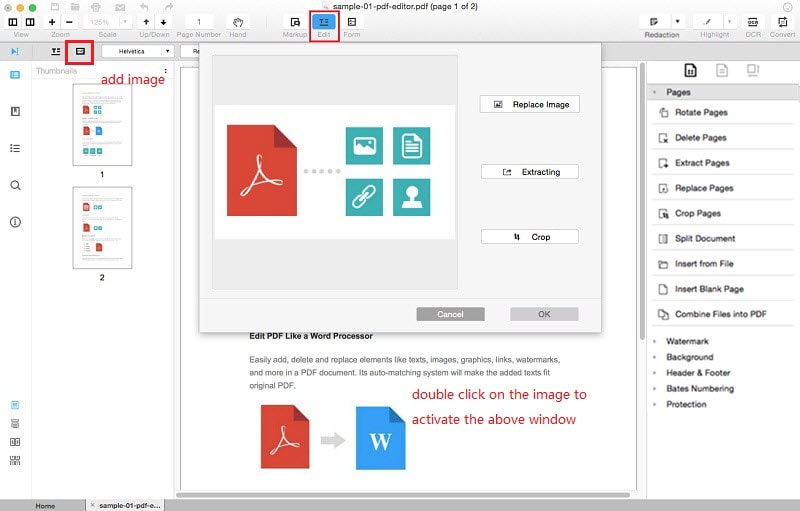 ➔ Split and Merge PDF Files
You can easily split a PDF file in a number of different pages. Simply go to the options pane on the right side and scroll down to find "
Split Document
". Then finally choose to split by number of pages or in an odd even manner. Then click the OK button.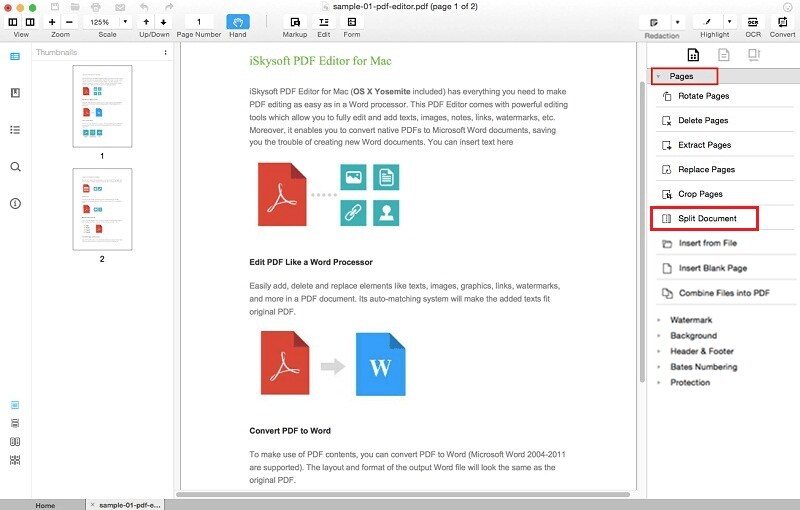 For merging PDF files go to the main screen and click "
Combine Files
". Then click "
Add Files
". Finally click "
Combine
". After this your multiple PDF files will be combined to form a single document.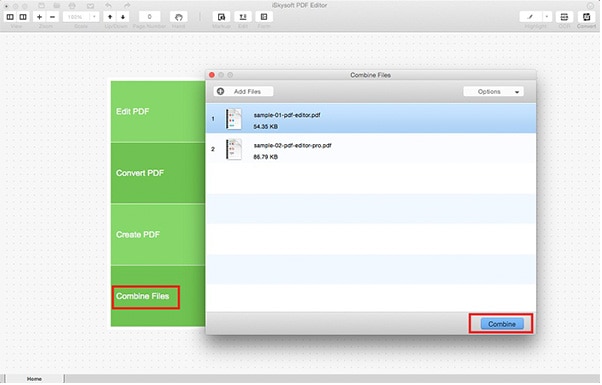 How To Create Forms
To create a form first create a blank document by going to "
File>Create>Blank Document
". The click the "
Form
" button on toolbar to access form creating and editing tools. With this feature you can easily create registration forms and invoices.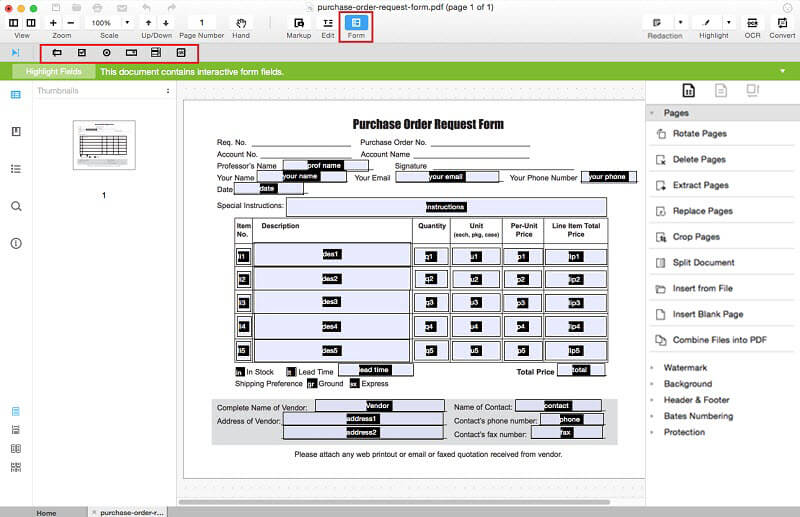 How To Convert PDF
Converting PDF files to other formats is necessary feature since it saves your time and makes different copies of the same file that work with different text editors. You can easily convert a PDF file to word, PowerPoint, Excel, EPUB, HTML, plain text, rich text format, word processing pages and images.
Open the document in the editor and click the "
Convert
" button on top right corner. Then select the output format.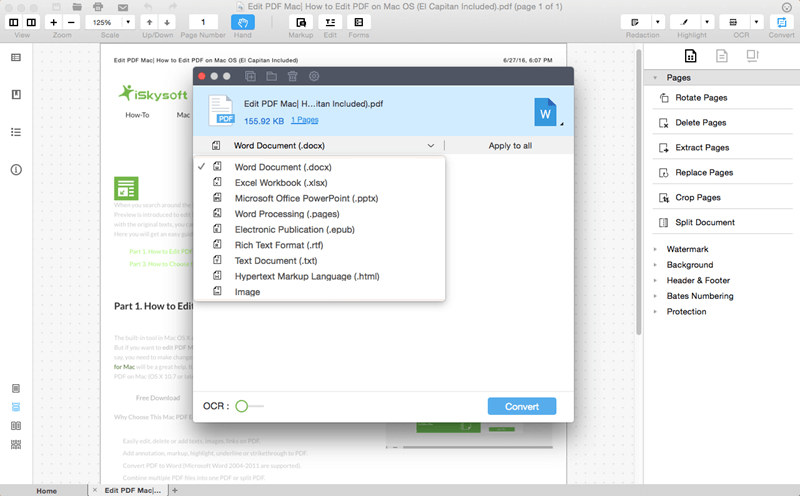 How to Encrypt Your PDF Files
Encrypting PDF files with a password ensures that no one can view them except you. iSkysoft encrypts PDF files with
128-bit AES
encryption. You can also set permissions for editing.
To encrypt a document click "
Encrypt with Password
" on the right side of the editor. Then enter your password. If you have multiple PDF files to encrypt then you can use the "
Batch Encrypt
" facility which will encrypt multiple files at once. You just have to enter passwords for these files for encryption.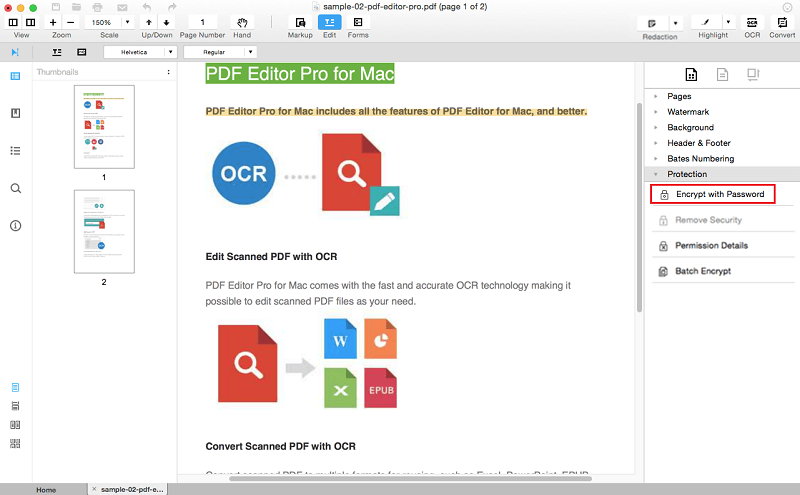 If you don't want someone to edit your PDF file then you can also set permissions by going to "
Permission Details
" and enable both the options as shown below.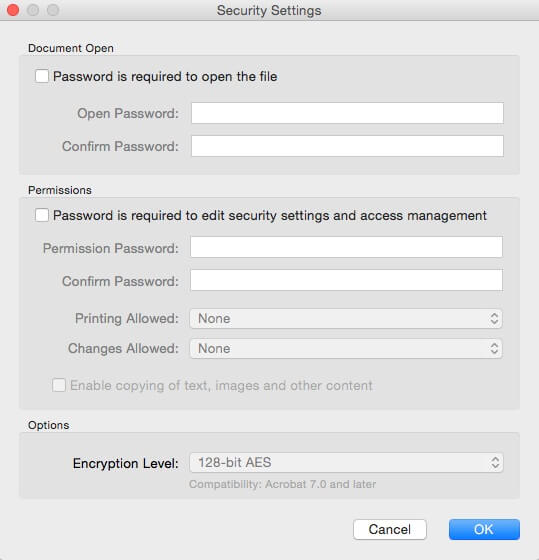 How to Use OCR Plugin
With the OCR (Optical Character Recognition) plugin the editor can recognize texts and symbols from a scanned PDF file. It also supports different languages. Follow the steps below to use OCR plugin.
After loading the document click the "OCR" button on top right corner. After clicking the button a popup will open asking you to choose the preferred language. Then click "OK". The PDF will be instantly converted to an editable format.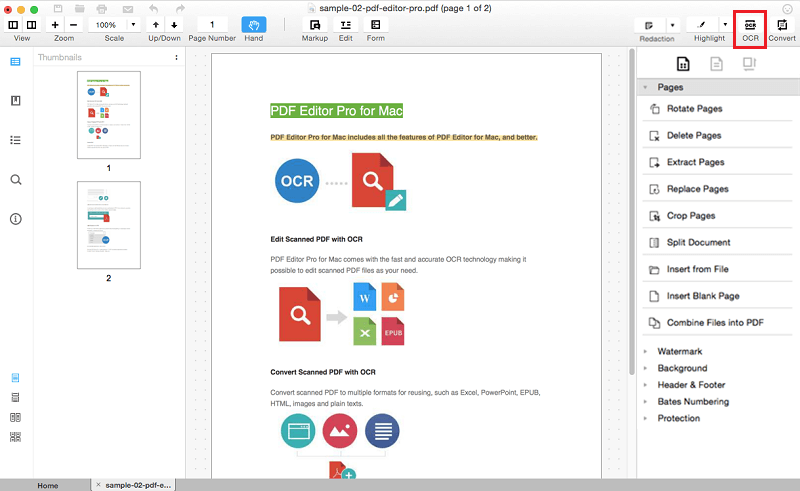 iSkysoft PDF Editor Pro For MAC in a Nutshell
Best PDF osx editor tool for MAC OSX 10.7, 10.8, 10.9, 10.10 and 10.11 (El Capitan).
Has all professional editing tools to manage your PDF files.
Creating forms is one of the most outstanding features of this software.
OCR plugin can identify text from scanned documents.
Allows you to encrypt your documents and sign pdf on mac digitally.

Buy iSkysoft PDF Editor Pro For MAC OS
You can buy iSkysoft PDF Editor Pro for MAC OS without thinking much. The software provides all essential PDF editing tools. There is a 30-day money back guarantee on your purchase. Click the image below to buy this software.
Buy iSkySoft PDF Editor Pro for MAC at $99.95
:
Buy Now
Buy iSkySoft PDF Editor Pro for Windows 10 at $69.95
:
Buy Now
Share This Post.
You May Also Read
Get Blog Updates Via Email Subscribe Now
Please check your email for the verification link. Click on the verification link to start your email newsletter subscription.